These days, I don't get many consultations. If old colleagues don't see you in the dining room or on the hospital floor, they tend to forget you, particularly as your practice slowly shrinks without the new patients added from emergency room call. At 70, I'm hardly one of the young Turks, but my days are still pretty full, and my nights are almost free from the previous forty years of intermittent, sleep-depriving phone calls. I still love the consults, but they are few and far between, so I really enjoy my rare trips into the intensive care unit or the medical floor.

It was just such a morning when I came in to follow up on a 91 year old lady who had been admitted by a cardiologist the previous night for a bradycardia, a heart rate of 28.... too slow to provide adequate perfusion to brain and kidneys. He knew her well, and her wishes, and her family's wishes, so after placing a temporary trans-venous pacemaker, restoring her pulse to 70, and returning her blood pressure, he called me to deal with a creatinine of 4.7. She was declared a "no code", a DNR (do not resuscitate.) My task, and he was kind enough to call me and speak to me directly, rather than leaving a message with the exchange, was to communicate with a devoted son who had come in from out of town. The lady had been living at home with a caregiver, but had been suddenly declining over about two weeks. When the cardiologist examined her in his office, she was immediately hospitalized and placed in the intensive care unit.

I saw her on Tuesday afternoon and she was cooperative to a limited extent. I couldn't understand her words but she tried to follow orders. She had a not unexpected metabolic acidosis and the anemia of renal failure and was dehydrated. These were correctable conditions and I wrote the appropriate orders taking care not to rehydrate her too rapidly because of her 91 year old heart. She had been seen in December by another group of nephrologists so I wondered why I had been chosen this time. Never mind, I'm happy to be called.

On Wednesday morning, I came in to check her, and there was some progress with the acidosis and a slight decline of the creatinine. I was working on the chart when I ran into an old friend, a pulmonologist and intensivist whom I had helped to start what has become a flourishing practice. He combines efficiency with rare humanism and the ability to get to the essentials in record time without anyone feeling rushed. Genius! I suppose it helps that we are in tune politically, and in OC we are part of the dissonance.

We were talking about what we usually talk about. The frustrations in medicine that come between the practice of the profession as we think it should be practiced and the need to earn a living while we hang on in the swamp like a couple of dinosaurs in a tar pit assaulted by sabre tooth tigers. Oh, medicine is fun these days! There we were surrounded by the victims of stabbings, AIDS, poverty, neglect, you name it. I was thankful for the action and he was frustrated. It was comforting to talk to someone with similar values.

Suddenly, the door opened and in came an unusual sight. Rounding as it never occurs. A medical group with more hair than this bearded doctor and his Sikh pulmonologist friend. The frustration suddenly gave way to smiles and laughs and radiating warmth. This was infectious.


This was my introduction to Gus, Lizzy Lou, and Dr. Brandy. They are a Leonberger, a Beagle and a Doberman Pinscher. Perfectly behaved, friendly and completely at home in their roles, they submitted to petting and stroking and returned the interest. The staff was uplifted. I'm sure that the interaction of the doctors and nurses provided a spiritual uplift. The minor complaints and frustrations disappeared for a moment. The purity of intention, the very special relationship of man and dog, the larger than life friendliness all together put matters into perspective.

Someone volunteered to take my picture with the dogs, and they cooperated. Someone else asked for a copy of the picture. For a few minutes, all was right with the world.... due to the Therapy Dogs of Southern California. http://www.therapydogsofsocal.org/

Here they are, with credentials, starting with a breed I had never heard of, but will never forget.
This is Ch. Royal Gustav von der Lowenhohle, a Leonberger, a breed 150 years old, from the town of Leonberg. He is a blend of Newfoundland, St. Bernard and Great Pyrenees, referred to as the "lion dog."




This is Lizzy Lou.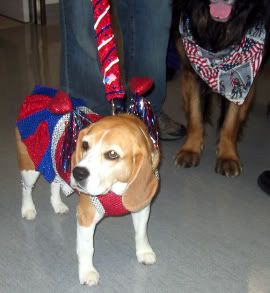 Finally, Dr. Brandy, a Doberman with a difference!


Obviously, this doctor holds a unique postion on staff.



The dog owners, who give so much of their time, as do their dogs, deserve our thanks for sharing their pets with the patients and staff and doing this for the purest of reasons.... extending love to their fellow man with a demonstration of caring and unselfishness. I can't name them, as the dogs were the featured performers, but it doesn't take much to look beneath the surface and see the unselfish spirit of giving. A great big THANKS for what you do for the patients and the staff!

And a followup on that 91 year old. After flirting with a bit of heart failure, by the fourth day the creatinine was down to 2.6 and the patient was back to her self, fully alert and responding. She will need a permanent pacemaker, and she did not need dialysis. The metabolic acidosis is gone. The anemia is improving, but it was aggravated by iron deficiency, so we are looking for the source of that. She is a delightful lady and will soon be leaving the ICU. A small but welcome victory!